Businesses that require large machines often have high overhead costs. To get started or to expand such a company, heavy equipment financing is needed, as the cost of these items is often prohibitive. Luckily, there are leases and loans available to suit every lender, and they can be of various lengths. That way, businesses retain their flexibility and capital while gaining access to the best machinery available.
How Long Does Heavy Equipment Financing Last?
Normally, the people who lease equipment from us will opt for a term between 12 and 36 months. However, heavy equipment can be borrowed for much longer, since it usually lasts for many years. The length of your lease will depend on several factors, such as the useful lifespan of the type of construction equipment you need and whether you are opting for a new or used machine.
What's more, we can tailor your lease to your specific needs, so it can be shorter if you don't know exactly what you will want to do in several years' time. That way, you can choose to end your lease and move on to different projects, extend it and keep using the piece of equipment, buy the item up front, or even upgrade to a newer version and take out a new lease.
How Heavy Equipment Financing Loans Can Work for You
Heavy machine equipment loans give businesses money to purchase heavy machine parts and pay the bill in advance rather than paying the full amount upfront.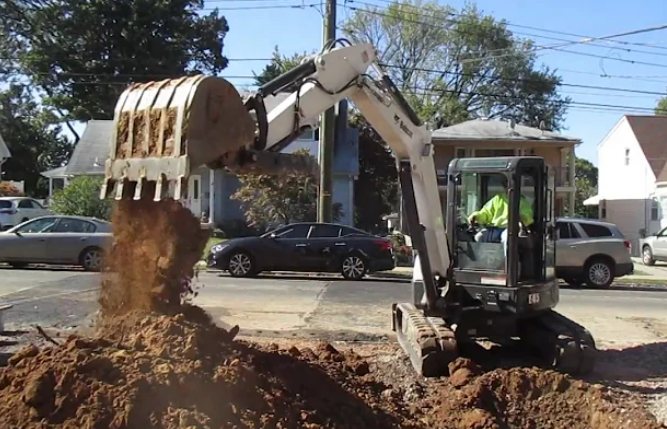 Businesses using large-scale machinery typically rely largely on heavy equipment loans to accomplish their task. From the contractor to the construction manager you need to have your construction equipment working properly to reduce delays.
Heavy machines and heavy equipment are among the most expensive items that any firm can purchase. Industrial heavy equipment financing and construction equipment financing let you borrow construction equipment without clearing cash reserves.
The loaning option to buy heavy construction equipment is also advantageous. It varies depending on your job objectives.
Types of Heavy Equipment
Almost all types of heavy equipment loans can be leased there are several types of construction equipment leasing, and we work with a wide variety of brands, so you should find exactly what you need from us.
If your business is agricultural, you might have to borrow a tractor or machinery for specific harvesting processes. Many businesses in the construction industry need cranes, tunnel-boring machines, and various types of saws.
Other equipment required for various businesses might be street sweepers, dump trucks, backhoes, and pile drivers. No matter what your requirements are, you should get in touch with us at Noreast Capital and speak to your dedicated account manager. We can figure out how to access the construction equipment at the best price possible.
Considerations
Together, you and our specialist will decide what the best loan term is. If you expect to use the piece of equipment for the foreseeable future, you might opt for a new machine and a long lease term.
However, if you aren't sure yet or you only require it for a specific project, you could go for a much shorter time frame and return the item to us as soon as you no longer need it.
In such a case, you might consider choosing a second-hand machine, as this could be cheaper and more flexible. As your needs change, you can always come back to us and ask us for an upgrade and a new lease. Because you won't be locked in for a very long time, you'll have the flexibility you need to change your strategy and expand or update your business.
What Type of Heavy Equipment Financing Is for You?
The most common type of heavy equipment financing or construction equipment financing we offer is a lease, but you could also opt for a loan if this better suits your needs. The two ways of borrowing are quite similar, but ownership of the piece of heavy equipment is handled slightly differently.
When you lease, we remain the owners, and you are more flexible at the end. On the other hand, a loan allows you to buy the item from us with a small down payment upfront.
Leasing Equipment Financing
Financing and leasing allow you to use the piece of heavy equipment or construction equipment you need without actually purchasing it from us. For the duration of your lease, we will own the item, but you get to use it by paying us a monthly fee.
There are different types of arrangements, which makes this agreement extremely versatile. For example, you can choose a long-lease equipment loan and start using your machine without paying any money upfront.
At the end of your term, you can buy the equipment from us for $1. Alternatively, you could choose a much shorter lease, maybe two or three years, and either purchases the item at fair market value or give it back at the end.
This second arrangement can be great for businesses that are just starting out or that are facing uncertain market conditions since they retain all the flexibility.
A Loan Equipment Financing
When you opt for a loan from heavy equipment finance companies or construction companies, you are buying the piece of equipment you need from us on finance. This means that you will have to provide us with a down payment that is a heavy equipment loan, which might be around 15% of the total value of the item you're purchasing.
Then, you will repay us the remainder in monthly installments over several years. Because heavy equipment is expensive, it might take you 6-10 years to fully pay off the item.
In general, the interest rates can be lower for equipment loans than for leases or credit, so you could pay less in total if you choose this option. However, you will have to put down a deposit, which can be a lot of money if the equipment you need is very expensive.
What's more, you have less flexibility than with a lease because you don't have the option of returning the equipment or upgrading at the end of your equipment loan term.
How Many Years Can Heavy Equipment Financing Take?
From an economic viewpoint, the use of heavy equipment financing can mean that the returns on investment are likely higher when you buy the equipment later. Purchasing heavy equipment outright is not always the best option, as it can tie up a lot of capital. Ownership costs include the costs of operating expenses, insurance, and transportation.
Therefore, it can be more cost-effective to finance heavy equipment over a period of several years, allowing you to spread out the costs over time while still having access to the necessary construction equipment. The term usually runs for between 12 months and 6–7 years, depending on your purchases. In many instances, a specific financial arrangement may vary depending upon different factors such as equipment financing constraints and credit availability for businesses to operate and manage.
Most equipment loans last a maximum of five to six years. During this period, your loan is paid monthly to pay off the principal and variable interest. A reputable lender may not provide an interest rate above the value of its assets.
Choose a term based on your monthly payments; shorter terms mean lower monthly payments but a higher total cost. It is important to consider your business needs, cash flow, and the length of time you will be using the construction equipment when making a loan or being given collateral.
Your Application Process for Heavy Equipment Financing and Leasing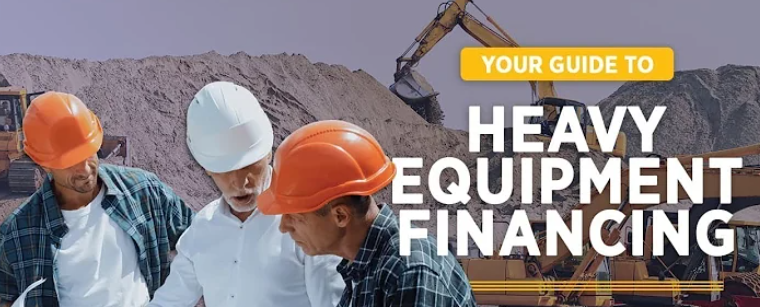 Now that you know what you can lease with the heavy equipment leasing from heavy equipment finance companies and how the various arrangements differ, you might wonder how challenging the application process is.
The application process for heavy equipment leasing can be quite straightforward and is often much faster than applying for a loan. You can receive an answer in a very short time. Simply submit our application form, and your dedicated account manager will get back to you with some options.
If you're looking for under $50,000 in credit, you'll receive an answer within a few hours. heavy equipment leasing is an attractive option for those in need of quick access to the needed construction equipment without a complicated application process.
For businesses or construction companies that need more than this amount, the process might take one or two business days to get the credit, as you'll need to submit additional financial statements. To avoid this wait time and make sure you'll be able to get the financing you need, you could open a leased line of credit ahead of time. This means that you'll have the credit your business requires whenever you're ready to start acquiring construction equipment.
What Are the Benefits of Borrowing Your Heavy Equipment?
When it comes to setting up your business or expanding your current operations, there is a lot to consider. Borrowing heavy equipment can be a great way to get the tools and machinery you need without making a large, long-term investment.
You'll need some office space, a number of specialized employees, and the purchase of construction equipment required for the work. Because the first two points can be expensive, it's often easiest to finance the last one and conserve some of your capital.
Nowadays, there are so many different options available to borrowers that you're sure to find the exact lease to suit your purchase or contractor's needs. This gives you and your business more flexibility, so you can quickly respond to different market conditions and upgrade your equipment when needed. Taking out a lease agreement is often the best way to equipment financing purchases, especially if you're a startup.
Conserving Your Capital for Equipment Financing
The most important reason why most companies equipment leasing or finance heavy equipment is that they can conserve their money that way. By leasing or financing equipment instead of purchasing it outright, businesses can free up capital for other investments. Many startups don't necessarily have enough funds to purchase everything they need, so borrowing is the only option open to them. Because there is no large down payment required, a flexible lease is the best option.
Additionally, equipment loans or construction equipment financing and construction equipment leasing allows businesses to take advantage of technological advancements and replace outdated equipment more quickly.
Similarly, businesses that are expanding already have a number of costs to deal with, so not having to purchase all their equipment upfront can be a relief. Heavy equipment financing allows such firms to deploy their resources more efficiently.
Heavy equipment financing and heavy equipment loans also help businesses spread their costs over a period of time in financing companies, which can be beneficial when cash flow is tight. For example, they can invest the money they save back into the business and generate more revenue.
A Lease Tailored to Your Situation
Every business has different requirements, which is why there are so many types of arrangements available. Whether you're looking for an open-ended contractors agreement that allows you to have flexibility or a more structured approach, there are plenty of options that can be tailored to your needs.
If you're just getting started and don't have a lot of revenue yet, we can delay your payments for the first few months such as cash or credit, which allows you to use all your resources on building up a clientele. And for those of you who need more collateral or flexibility down the line, we can build in additional provisions that allow you to make adjustments in form of cash and credit as needed.
Similarly, businesses that operate seasonally could benefit from higher payments during the "on" months and lower payments during the "off" months. We understand that every business is unique and may require different payment terms for business loans.
At Noreast Capital, we offer numerous such purchase arrangements that can facilitate the running of your firm and help you stay on top of your running costs. For example, businesses that tend to deal with larger projects could opt for a percentage-based payment schedule that would enable them to spread the cost of the project out over a longer period of time.
You can speak to your account manager about the specific requirements of your company and the fee structure that works best for you. By doing this, businesses can keep their financial commitments manageable and ensure that they are able to stay afloat even in difficult times.
Reduce the Risk for Construction Firms
Old construction equipment financing could potentially damage your business operations or other financing options. By speaking to your account manager about the specific requirements of your company and the fee structure that works best for you, businesses can reduce their financial risk and ensure that their operations are not hindered by outdated equipment.
It becomes easier for your business to purchase equipment lease to upgrade, thereby reducing the risk of repairing your old and worn-out equipment for your crucial construction operations.
More Flexibility for Equipment Financing
Heavy equipment is expensive and usually very big, and it is a long-term investment without competitive interest rates. If you buy your machines upfront, you will have to keep them for at least ten years to justify the cost, and you'll also need a permanent place to store them. So, it is important to consider whether or not you have suitable storage space for heavy machinery before making such a major purchase.
However, a lease can be shorter than this such as working capital loans, so you could use your equipment only for the projects that require it and then return it to us once you get the job done. With a cash leasing agreement, you don't have to worry about keeping your heavy equipment for the long term and can instead use it on an as-needed basis.
This is especially useful for businesses with a somewhat open future. Maybe you're not sure yet whether you'll want to expand or are currently exploring a new niche. In such a situation, leasing can be the perfect way to keep your options open. Leasing heavy equipment means you only pay for it when you use it till you get the job done, meaning that businesses are not stuck with a high cost of ownership.
Heavy equipment financing brings many benefits for business owners, who can keep their capital and invest it back in the business with various financing options, business needs, and working capital , remain versatile and adapt to market conditions, and structure payments in a way that suits them in respect to their cash flow.
Call us today at Noreast Capital to find out more and get started with our industry. With heavy equipment leasing, businesses can free up their capital, remain flexible and adjust to changing market conditions, and choose payment plans that suit their needs. You could have your lease or loan in place within one to two business days. Contact Noreast Capital today to learn more and get the finance process started
Your Partner in Heavy Equipment Financing and Leasing
The most expensive expense to build a building is the procurement of the equipment. We offer a wide range of customized financing options for contractors or industries, from skid steer financing to heavy equipment leasing.
Our goal in building strong relationships is to enable customers to enjoy our service. We provide high-quality services to our customers with competitive rates, SBA loans, hefty price tags, and unsurpassed service.